​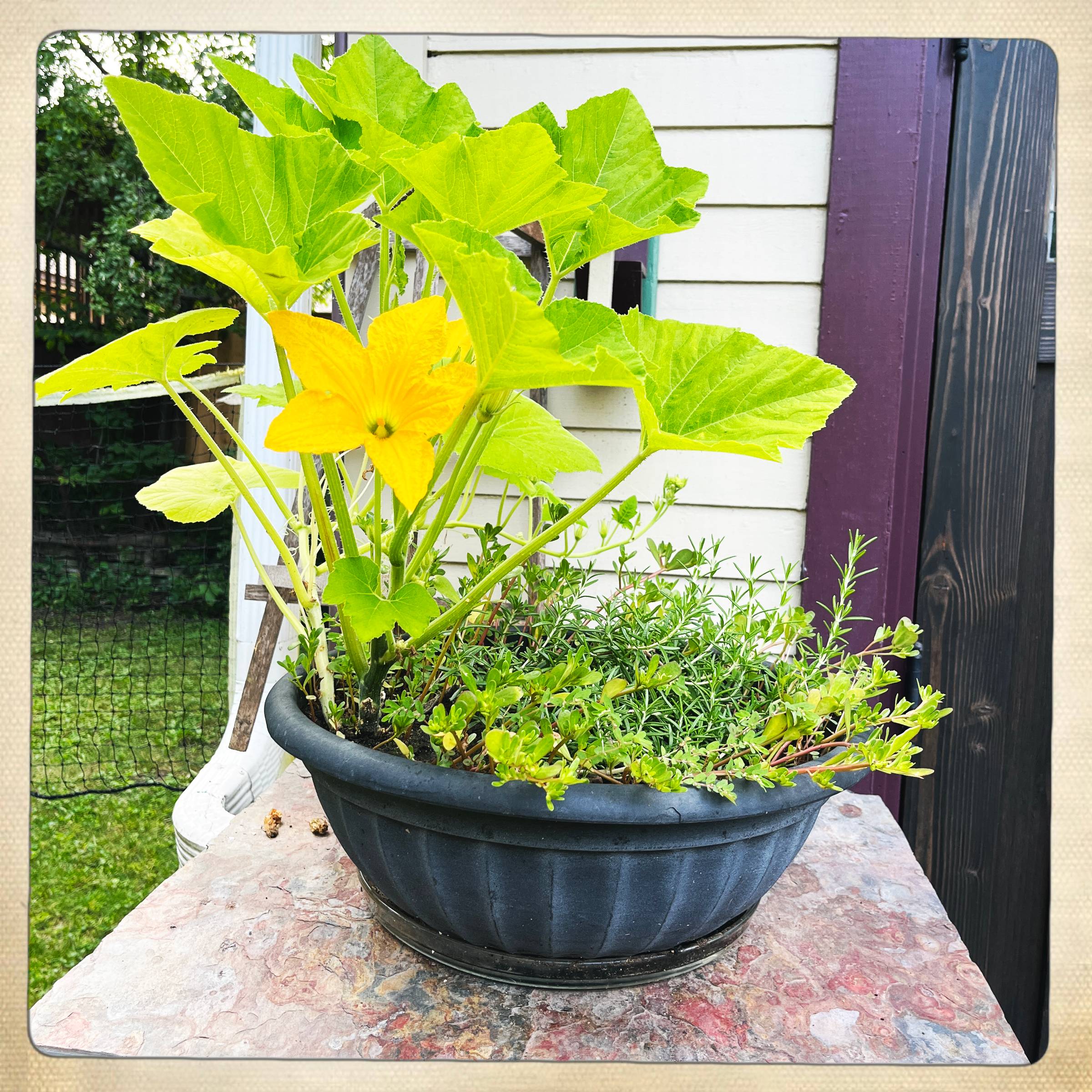 Our garden looks lush this year, but some of that lushness is, to be honest, a bit of a mess. We have things growing that we didn't plant – volunteers.
The word makes me laugh – volunteer! Did I ask for volunteers? If you're not a gardener, a volunteer is a plant that grows on its own, rather than being deliberately planted. And you know, they aren't always wanted. We have zucchinis in our rosemary pot – how's that going to work out?
But I love that our garden is just playing out life, as gardens do. Because life gives us a lot of volunteer experiences, doesn't it? Often, we're the volunteers, picked up and put down somewhere not of our choosing. Divorce, illness, job loss, the challenges of supporting parents as they age. We don't ask for any of it.
But what about volunteer experiences that surprise us with wonder?
Lately I've been intentionally basking in these volunteer experiences. So many good things happen without my planning, and the more I take note of them, the more I see them every day.
You see, I'm a do-er; you probably are too. I plan things and make them happen. And if you're a do-er, you can start to think that nothing happens without your do-ing. Over time, we can start to think that all good things require us to do something -- which is exhausting.
Just noticing all the good surprises life offers is a way of seeing that volunteer experiences are not all challenging – some are wondrous. While "I don't have control over this" can be upsetting, sometimes it's delightful.
This week, notice all the good things that happen that you didn't plan for. Maybe a friend stops by, you find a quarter in the street, a Little Free Library has just the book you want, or someone gives you a gift for no reason at all. Volunteer goodness.
Or maybe, like me, you have a tomato plant growing in the cracks of your driveway, ready to share its first fruit. Something so delightful and unexpected, this constant reminder that sometimes gifts come in the places we least expect. ❤️
​
---
When you start taking note of volunteer goodness, your experience of the world changes. You start looking forward to good surprises, because you know there will surely be some. These feelings of anticipation are also one of the gifts of new relationship energy, the topic of this week's podcast.
I've been monogamously partnered for over 35 years, so it's been a long time since I've experienced new relationship energy with someone else. But new relationship energy with myself? That's been a gift of middle age.
Whether you're single or in a long-time monogamous relationship, fostering NRE with yourself is powerful magic as we get older. While the traditional vision of the midlife crisis includes not knowing who you are anymore and feeling lost, NRE is a reminder that meeting someone new can be fun and sexy -- even if (especially if!) that person is you.
In this episode:
➡️ The power of non-romantic NRE
➡️ NRE as an antidote to feeling bored or stuck
➡️ How to activate curiosity about yourself
➡️ How excitement and nervousness tap into NRE
Take a listen and let me know your ideas for cultivating NRE with yourself. Have fun!
Love, Rachel
P.S. If you have a sense that coaching might be volunteer goodness in your life, contact me for a one hour, no-cost, no-stress initial consultation. We'll have time to talk and I'll coach you, so you can see if it feels like a good fit. Whatever you decide, our time together will, I hope, feel like a gift. Fill out my consultation form below, or email me at rachel@coachingwithrachel.com with any questions.
​
⭐ If you know others who would enjoy this, I'd so appreciate your forwarding it -- thank you! ⭐
website: coachingwithrachel.com​
FB: facebook.com/rachelbaumcoaching​
IG: @rachelbaumcoaching
email: rachel@coachingwithrachel.com
love notes: lovenotes.coachingwithrachel.com
sign up for a consultation : https://forms.gle/xeYg8daF2oqp7KCKA​