​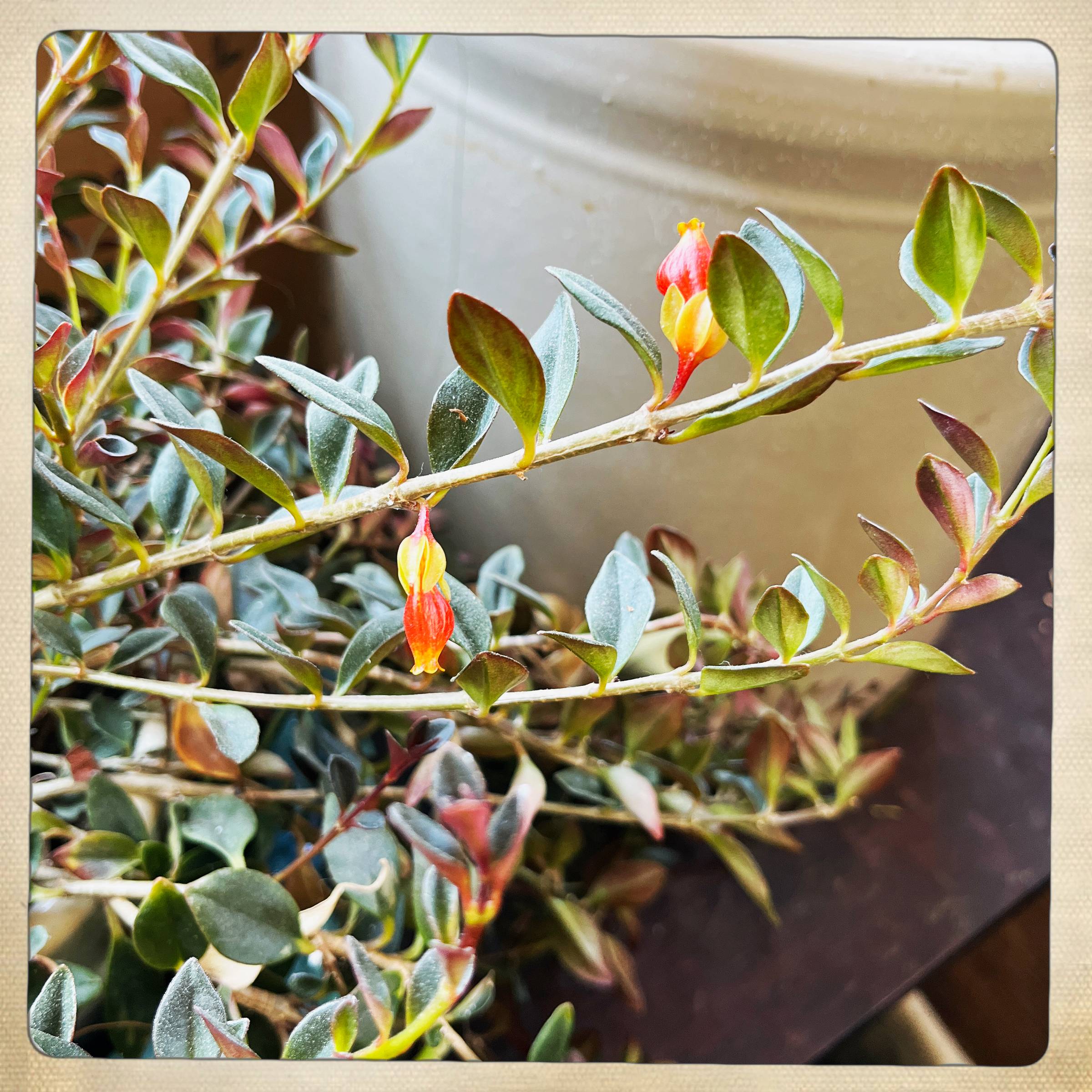 Today I'm celebrating these two buds on my goldfish plant. The plant was my mother's. She had a true green thumb and took care of her plants with love and tenderness.
I haven't seen myself as someone with a green thumb but after my mom passed away in 2021, I inherited her plants. I've been determined to nurture them -- but honestly, I'm not always sure how they're doing.
The beautiful diva Boston ferns are half dead -- but also, remarkably, half alive! Am I supposed to let them go or will they come back?
The goldfish plant has looked fine, but I don't feel a big connection to her. Is she happy? She never tells me.
But today -- she told me.
All her quiet was just her leaves corralling her energy. She was preparing to bloom.
Me too, Goldie. Me too.
Of course the two Boston ferns are going to come back. They have everything they need inside of them -- the evidence is in their green leaves. I'm choosing to believe that the brown half of the plant is a sign that she is getting rid of what no longer serves her. I will listen to what she needs and she will have a starring role in a future email, for sure.
It's been a challenging winter for many of us. There have been unwelcome transitions, grief, uncertainty, cold, and loneliness. We're not always sure how we're doing.
But all we have to do is find a single green leaf to give us the evidence that we have everything we need to heal and grow. Some days that single leaf is a shower. A sigh of well-being over a cup of coffee. Laughing with a friend.
Some days it's the sun on my face or feeling my dog's head resting on my leg.
So many green leaves, actually, if we only notice them.
And now, the Spring blooms come, with hope and fortitude. The holidays of Passover and Easter call believers to trust that their story is part of a greater story.
I believe in my Boston ferns, in myself, and -- utterly and extravagantly -- in you.
As it's national poetry month, I'll share a poem from my mother's favorite writer, May Sarton. It's called "A Prayer".
Help us to be the always hopeful
gardeners of the spirit
who know that without darkness
nothing comes to birth
as without light
nothing flowers.
​
This week, look for evidence of the green leaves inside you and the light that nurtures them. Notice when you feel alive, hopeful, content. Water your spirit by writing down those moments as the first step of finding more. Ask your brain to find 5 - 15 minutes a day to let yourself have more of those feelings -- maybe even five minutes, a few times a day. After all, we have buds to grow.
Happy Spring ❤️
---
In Spring we clear the dead leaves from the budding crocuses, and internally we dust off whatever parts of winter we are ready to leave behind. One of the best ways I know to do this is to ask powerful questions. I share three of my favorites in episode #45.
Episode #45: My 3 favorite coaching questions
​Ep #45 ​
In this episode I share pure coaching magic -- three of my favorite coaching questions.
I use these not only in sessions with my clients but on my own brain, and I encourage you to use them to be your own life coach.
These are questions you can journal about, talk about with a friend, ponder on your walk, or contemplate in the bath. And they aren't just think-y questions either – we're going to bring our full selves, including our body, to these questions. .
Different answers start with different questions and these are so good.
Love, Rachel
​
P.S. The ferns didn't think they should need to wait for their starring role. Good point, Fern! We never have to wait to show up as our beautiful, whole, not perfect selves.
This is Fern and her sister, Fern. They are healing from winter. They are beautiful, perfect and looking forward to some outdoor time.
​
If you are a plant person and want to give me Fern advice, I welcome it! rachel@coachingwithrachel.com.
P.P.S. If your spirit is waking up after winter and you are drawn to coaching with me as a way to water it, give yourself the gift of learning more. Sign up to meet with me ⁠here⁠. I'll gift you a session, with time for us to talk, so you'll have all the information you need to decide if coaching is right for you.
​
⭐ more ways to connect ⭐